Apart from making us feel conscious about ourselves, moles also pose a threat of being cancerous. However, there are certain procedures that can help remove moles permanently, including electrocautery and radiofrequency. If you wish to know more about all the popular procedures of mole removal in the UK, we have you covered! 
What Causes Moles on the Skin? 
A person may have moles at birth, but most of the time, they are developed during childhood. While genetics plays a major role in the prospect of individuals developing moles, exposure to the sun is also a significant factor. 
In fact, sun damage can initiate changes in a mole that might ultimately lead to skin cancer. Therefore, it is important to shield your skin from the sun. 
Moles are very common and generally don't cause major problems. However, people decide to get a mole removal surgery for cosmetic reasons. Additionally, a dermatologist might recommend treatment if there is a possibility of a cancerous mole. 
Mole removal by cosmetic procedures is by far the most effective and common treatment that people prefer to get in London. The procedure is quite simple and can be performed by a dermatologist at his clinic.
Mole Removal Price in London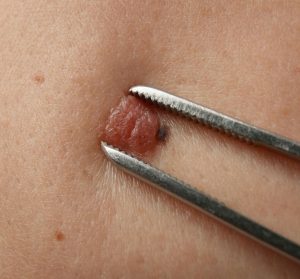 The average cost of mole removal in the UK varies from one clinic to another. Besides, the cost of surgery usually depends upon a number of factors, including private or government settings and the size of the mole. Usually, private clinics charge more than government hospitals. 
Therefore, the treatment can start from £150 and go up to £765 in the United Kingdom.
Some Mole Removal Clinics in London 
                                                                        MOLE REMOVAL CLINICS
NAME 
ADDRESS
PRICE 

Aesthetic Beauty by Jules 

16b high ST, At angels, Kenilworth, Cv8 1LZ 

£

150 –

£

600

 

MACS Cosmetic Clinic 

Watford Unit, 3 Wilmington CI, Watford, WD 18 OAF 

£

499 –

£

750

Beautiful Beings – UK 

Allanhall House, 15 Allanhall way, Kirkella, East Yorkshire

£

250 –

£

745
Procedure for Mole Removal 
There are several methods for removing moles from your skin. So, let's dive in and take a look at each one of them. 
Electrocautery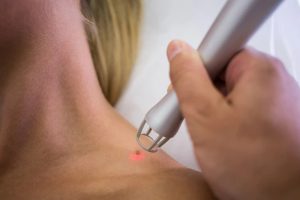 Electrocautery treatment is done by using a light electric current that burns the outermost layer of the skin where the mole is present. It doesn't scar the area and can be completed in just a couple of sessions. 
Additionally, you can expect swelling, redness, and a little pain. Your dermatologist will inject a local anesthetic so that you feel minimum pain. Just make sure you keep the area dry and do not scrape the wound. 
Punch Excision

One of the most popular mole removal methods in the UK is to slice out the entire mole along with a layer of skin which includes its base.
 After removing the full depth of the mole, the wound is stitched, and the sample is sent to a forensic lab to check for cancer. The scar is generally a fine line, but it can sometimes be more visible due to the size of the mole. 
Radiofrequency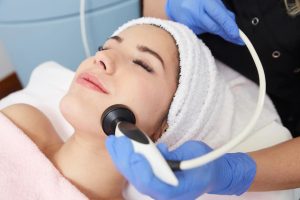 The radiofrequency treatment uses a device called the Ellman Surgitron. The area is numbed with local anesthetic after cleaning the mole or skin tag with an antiseptic solution. 
Once the area is numb, a thin wire loop of the Surgitron is used to flatten the mole to the level of the skin. After that, a small ball electrode is applied to the skin to make sure that the skin is completely smooth. 
After the procedure is complete, the dermatologist will clean the area with antiseptic and then apply a small bandage. Each skin tag or mole takes about ten minutes to remove.
Q Switch YAG Lasers 
Laser mole removal in the UK is the most convenient of all the treatments mentioned above. This is why it is also the most popular amongst people and dermatologists. Moreover, it is a pocket-friendly method and causes no scarring.
However, the number of sessions required to remove the mole depends on the size, shape, and color. Additionally, the procedure includes applying anesthesia before using a beam of light energy that breaks down the mole cells so it dissipates and dissolves. 
Laser removal can be done on moles that are hard to reach. Moreover, it only takes three or four sessions to remove the mole entirely.
Some Common Questions about Mole Removal 
Most of the time, people aren't aware of the different mole removal methods and end up getting confused. While we suggest you take expert advice, there are a few things you must know even before your appointment with a dermatologist.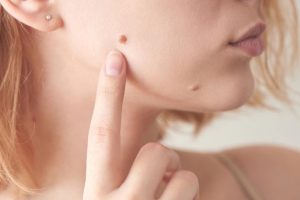 Are mole removal procedures painful? 
No, mole removal in the UK is not painful. These treatments are performed after injecting local anesthetics to numb the patient's skin. Usually, people feel no pain during non-surgical or surgical procedures. However, they may feel discomfort or pain after the anesthetic effect diminishes. 
What are all the types of mole removal methods? 
Non-surgical mole removal methods include electrocautery and laser-assisted mole removal. On the other hand, surgical mole removal includes mole removal by excision and mole removal by shaving. 
How long does it take for the wound to heal? 
Usually, the wound takes around two days to recover from the non-surgical procedure and up to a week from the surgical procedure.
When can you travel by plane after the treatment? 
People must not travel by air for at least three days after their surgery. 
What are the precautions that a patient needs to take after the surgery? 
Patients should take all doses of prescribed medications regularly. 

In addition, they should avoid lifting heavy objects for at least a week or two. 

They should keep the dressing on for two days. 

Moreover, they should avoid exposure to direct sunlight for a few days. 

Patients should avoid drinking alcohol and smoking cigarettes for at least five days. 

In case of swelling, remember to place ice packs over your skin. Additionally, patients should sleep with their heads slightly elevated for five days. 

Patients should not touch or scratch the area for at least two weeks. 
Visit the health section on our website to find more such articles.