Breakfast at Tiffany's, starring Audrey Hepburn, is the definitive 1960s fashion inspiration film based on the drama and romance of a New York socialite, Holly Golightly (Audrey Hepburn), and her iconic wardrobe has given us some major fashion goals.
Audrey Hepburn was a true trendsetter, and she changed the fashion game with her Breakfast at Tiffany's Outfits. Moreover, to date, many influencers like Keilah Kang take inspiration from her for their dressing sense.
However, there are some timeless Breakfast at Tiffany's Outfits that can never go out of fashion. So today, we are going to discuss some of the best looks and outfits that were featured in Breakfast at Tiffany's.
Hence, Prepare yourself for some major 1960s fashion inspiration!
Little Black Dress
Breakfast at Tiffany's was way ahead of its time and a bold movie in 1961. The role of Holly Golightly was first offered to Marilyn Monroe and eventually played by  Audrey Hepburn.
Today we cannot imagine any other actress pulling off the character of Holly Golightly. It was a revolutionary role Hepburn played that character with a lot of elegance, grace, and yet boldness.
Talking about the outfit one of the most famous and talked about outfits is the little black dress.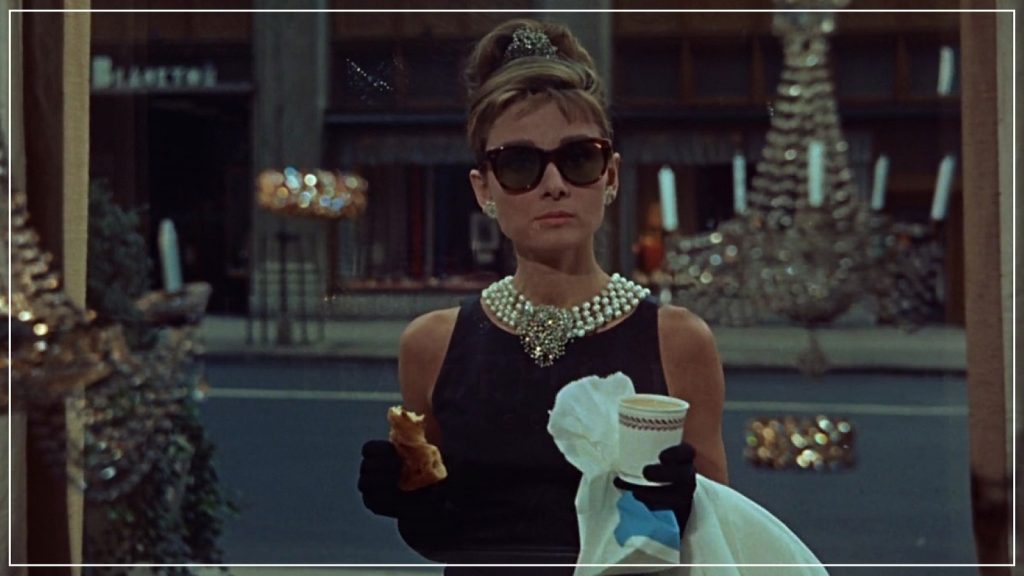 Hubert De Givenchy  (the founder of Givenchy and the creator of the little black dress) created Audrey Hepburn's clothes in Breakfast At Tiffany's, including her iconic black dress in the opening moments.
Holly Golightly, played by Audrey Hepburn, is wearing the legendary Givenchy black dress, possibly the most popular "little black dress" ever worn.
The iconic black dress is floor length and features tiny cutouts on the back bodice.
However, this outfit is also known as the "Audrey Hepburn Diamond Dress" because it is adorned with strands of diamonds and pearls, as well as a jeweled statement necklace. The gems appear to be stitched into the gown itself.
Moreover, you can never go wrong with a Little black dress. Throughout the movie, there are many iconic fashion moments, but the little black dress is Hepburn's best friend.
Even today, almost every celebrity has had their little black dress moment.
Audrey Hepburn's Casual Outfits
Even in the most random moments when she is just sitting with her guitar at night. She is caring for a casual look by wearing a grey sweater and denim jeans.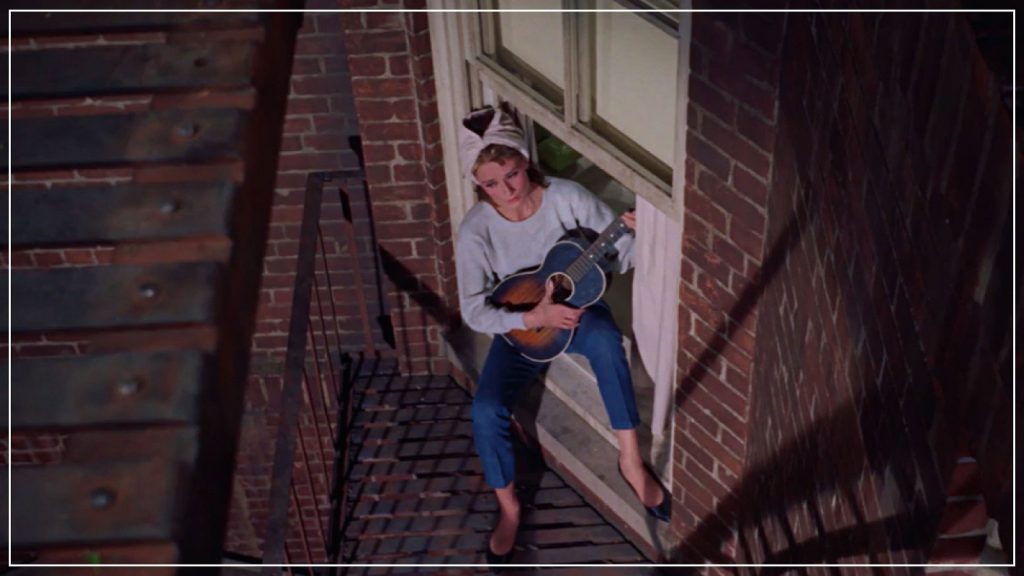 This is something that makes her character so relatable just the way she carries her look is impeccable. Moreover, she has paired this look with a hair accessory, knotting a white scarf around her head, which goes just perfectly with the look.
Furthermore, even in the most casual and basic outfit, she added a charm to that look with her personality and made it look so comfy and chic at the same time. This was one of the highlights of Breakfast at Tiffany's Outfits.
Pink Wrap Cocktail Dress
The classic retro style with huge hair buns and full-on glamour and glitters. Audrey carries a bold pink wrap dress so confidently and gracefully that she makes all the heads turn.
She knows when to play safe and when to go all out with experimenting. We cannot imagine any other celebrity carrying this look at that time. This pink wrap-on dress was accessorized just with a pair of earrings as they didn't want the focus to be shifted away from the dress.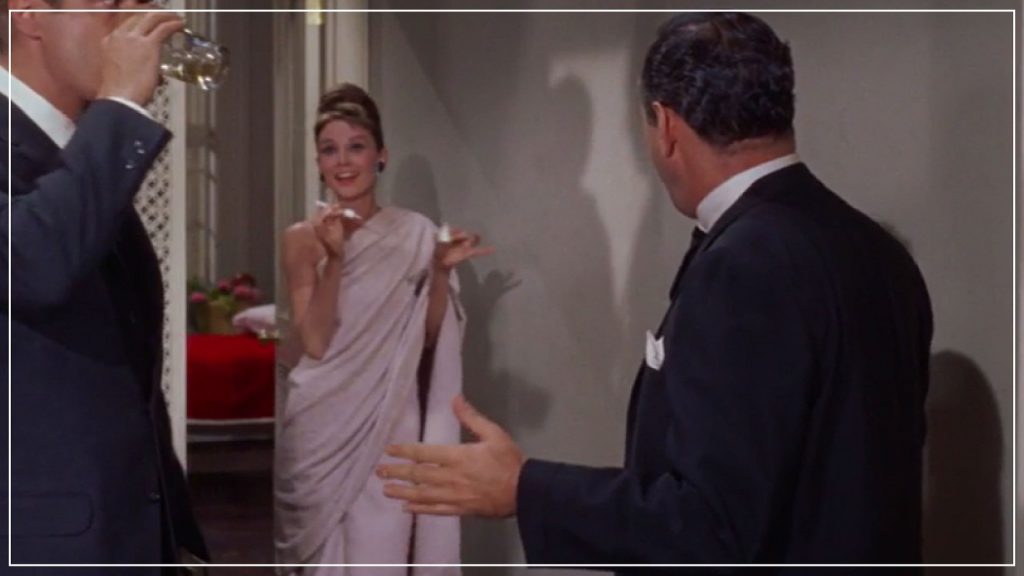 Moreover, there was a behind the scene story about this dress there was a scene where Audrey was coming out of the bathtub and just wrapped around this pink sheet and made a look out of it. As she was in a hurry to greet the guests, this is how she came up with the look.
However, in that era adding such clips was a bit risky, which is why this scene never made it to the movie.
Breakfast at Tiffany's Outfits and Accessories
Holly Golightly's wardrobe is classic and a dream for every girl. However, it has a bit of everything from casual wear to glamorous party dresses. Moreover, it was not just the outfit but the way each look was put together.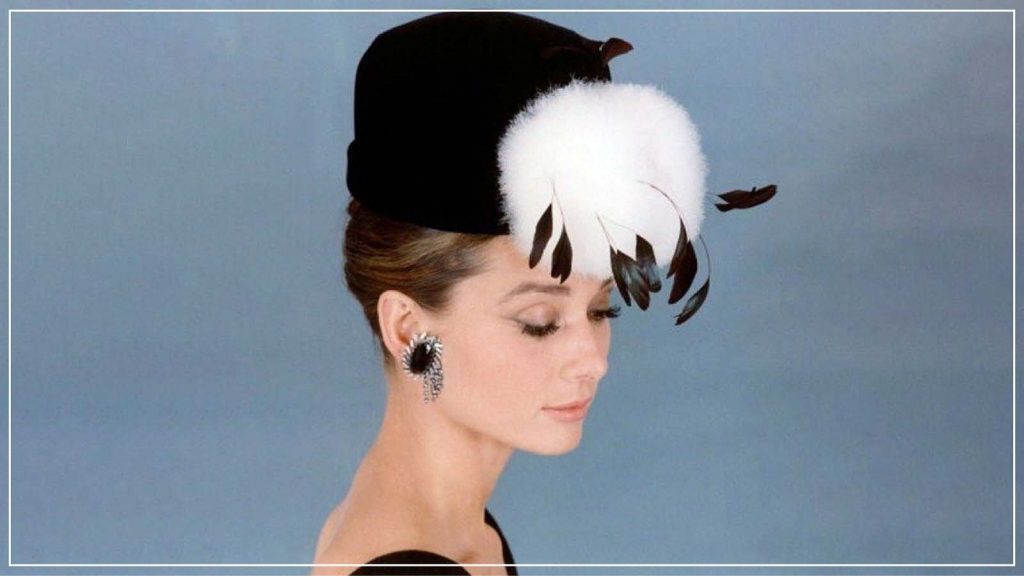 With the iconic glares and the statement necklaces and jewelry. Moreover, there is a lot of effort put into curating each look. Yet Audrey Hepburn carried each outfit so effortlessly and made it look like its seamless.
Some highlights of her looks were the massive hat, iconic black shades, and of course, how can we forget the pearls? While some of the other highlights of her looks were kitten heels, trench coats, ballet flats, and oversized Oliver Goldsmith sunglasses.
Audrey Hepburn as Holly Golightly
The role of Holly Golightly was a bold one. This is why many A-listed actors, including Marilyn Monroe, Kim Novak, and  Shirley MacLaine.
However, it was a risky decision for Audrey Hepburn, being an introvert portraying such a brave and bold character. Furthermore, we are glad that Audrey accepted this challenge and played this glamorous role with full confidence and conviction.
According to Audrey, this was one of the most jazziest roles of her career. Furthermore, she will always be remembered as a fashion icon and a classic beauty.
The Bottom Line
There is no denying that playing a role like Holly Golightly was a bold move and Audrey Hepburn did complete justice to that character. Breakfast at Tiffany's was way ahead of its time, and people are still taking fashion and outfit references from this movie.
It was the combined effort of Audrey and the designer Hubert De Givenchy. They have completely changed the fashion industry and have curated some of the best Breakfast at Tiffany's Outfits. From the clip in her hair to the kitten heels, everything is so well thought out. 
Giving us major fashion goals even Today!